29 Green Foods To Make On St. Patrick's Day
Consider these your something green.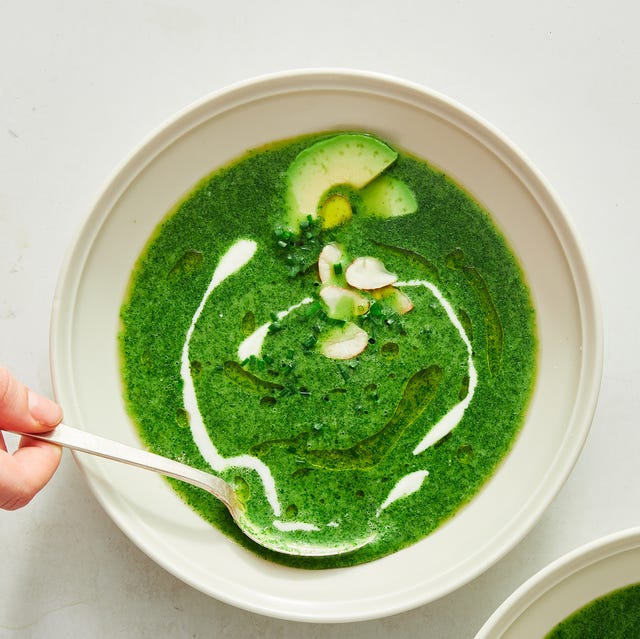 PHOTO: JOEL GOLDBERG; FOOD STYLING: HADLEY SUI
On St. Patrick's Day, we've all got that friend or coworker we KNOW is going to call out that we're not wearing the traditional green. We'll argue that it's childish, but even though we'll know we're in the right, we're still not keen on getting pinched. If you want to avoid the whole rigmarole (especially if, like us, you're not even sure if you own anything green), show off with green food instead!
Spring is all about fresh produce, and there's tons of herbs and leafy greens to choose from to turn your food the perfect seasonal hue. You can celebrate with everything from soup to appetizers, and lots in between. You could pack a perfectly green lunch, like our herby baked falafel (tucked in some homemade pita maybe?) or our vegan pasta salad. We also love putting greens into unexpected meals to turn them St. Patrick's Day-appropriate, like in our parmesan-crusted kale grilled cheese or green eggs and ham.
And don't worry, if you've got some green food dye you're just itching to use, we've got you too — check out our shamrock sugar cookies or green beer (not technically food, but it's so cool-looking we're counting it). Bake some minty chocolate chip cookies or andes brownies, and save everyone you share them with from a pinch-filled fate. Does it count if you've just eaten something wildly green today? We think so.
And we can't forget about our favorite naturally green fruit — avocado! Stick it in anything from pancakes to popsicles to turn them the perfect shade of green. If all else fails, you can always just make some guacamole (or another avocado-based dip, we've got a few).
For more seasonal inspiration, check out our Irish drinks, side dishes, and desserts. You're sure to find more luck among them.
This content is created and maintained by a third party, and imported onto this page to help users provide their email addresses. You may be able to find more information about this and similar content at piano.io